Hmmm.....
You are 66% Psychic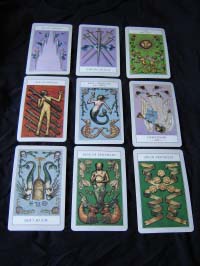 You are psychic. You are above average when it comes to perceiving the future. You are very observant and clever, with a good amount of common sense. It is very easy for you to predict things and be correct.


Take this quiz at QuizGalaxy.com
(A tip of the cap to
Livey
.)
_____
For all my male friends, a little quiz for you --
What Robert Johnson (Blues) Song Are You?
Sorry, ladies. This one truly
is
just for the fellas.
(A tip of the cap to
J-Walk
.)
_____
This would explain
why
Old Crankypants
and
Og
haven't had a lot to say on their blogs of late. They've been very, very busy. And
T1G
just got back from a long road trip. I'll just bet the other two directed him to spread a little mayhem all along the way.
And they think
cats
are sneaky...
_____
Clearly
someone here has overheard me
more than once before I've had my first cup of coffee.
That's funny -- I haven't been in New York for a couple of years now...
_____